The 2021 KWSA International Youth Swimming Challenge & USA Swimming SWIMS Time Recognition Meet (Beijing) will be held at Chaoyang Kaiwen Academy swimming pool from October 16 to 17. Hundreds of young swimmers from all over the country will compete. The event is jointly sponsored by Kaiwen Sports and Teamount Sport and has been officially authorized by USA Swimming which will provide certification services for non-professional athletes.
SWIMS is the only state official swimming performance database managed, operated and maintained by USA Swimming. It is the only official data platform for USA high school and college admissions officers to verify the authenticity of applicants' competition performance. Participants will rank among global swimmers as their results are accessible in SWIMS. Results certified by USA Swimming will elevate youth swimmers' learning and sporting backgrounds. To help more Chinese student swimmers get accredited in a more convenient and low-cost way, USA Swimming has launched offshore performance certification services together with Chinese partners in recent years. The 2021 event at Chaoyang Kaiwen Academy is authorized by USA Swimming to offer certification. Swimming performance in SWIMS will be valid for a long time and can be accessed on the USA Swimming website.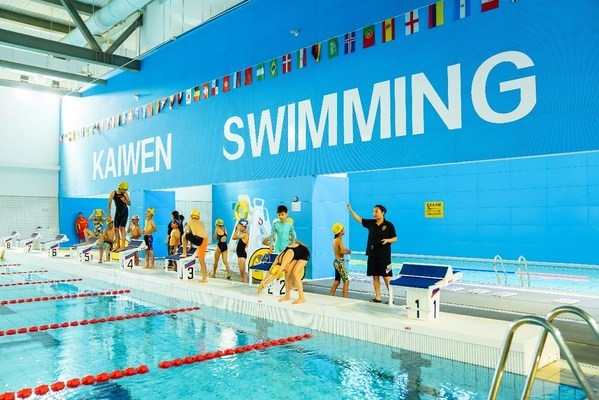 Kaiwen Sports, the organizer, has a high class indoor gymnasium and outdoor 400-meter track and field, football field, etc. Among them, the south building of the gymnasium at Chaoyang Kaiwen Academy has an international standard ice hockey stadium and a tennis stadium, and the north building includes a natatorium and a basketball gym. The natatorium for this event has eight 50-metre lanes of international standard. It can host domestic and international swimming events with an ozone disinfection and filtration circulating water system where the water is circulated around the clock. There is a children's pool on the north, which is specially prepared for beginners.
This event makes it easy for kids who need SWIMS services and builds a platform for young swimmers to show themselves, learn from each other and progress together. It greatly facilitates youth swimming training and broadens channels for selecting talents in China.